Mullen Technologies, Inc.

Winds of Freedom Corporate Partner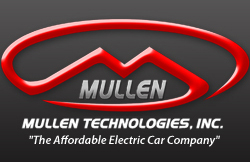 Winds of Freedom Foundation is pleased to be partnered up with Mullen Technologies, Inc. in the effort to promote peace, freedom and understanding around the world. Mullen is a diverse group of people, partners and organizations committed to the development, sustainability and affordability of clean energy. 
based in California, Mullen is a pre-IPO Electric Vehicle (EV) manufacturer and international distributor of high tech, zero emission vehicles. The company aims at solving the significant environmental problem caused by gasoline powered vehicles and providing a variety of affordable, electric cars to the American market and the entire world market.
Currently, it manufactures a proprietary United States Department of Transportation certified four door electric sedan and is in negotiations with several international vehicle manufacturers to develop joint ventures to bring quality, cost effective vehicles to the United States for certification and distribution.…Click Here to read more about Mullen Technologies, Inc. and partnering activities with the Winds of Freedom Foundation. 
---
The Affordable Electric Car Company
Primarily, Mullen is an electric vehicle manufacturer of USDOT certified vehicles utilizing state of the art battery and energy technologies. Over $750 million has been invested into the REAL Tesla killer: a four door, five passenger family sedan with a spacious trunk and 220-mile range per charge, with an MSRP of under $30,000. Future versions of this marquee vehicle will include a 650-mile all-electric range with Level 3 charging of 80% of capacity in under 30 minutes.
Mullen also commits tremendous energy and financial resources to the development of alternative battery technology and research into emerging scientific discoveries to create the best and most productive batteries available to consumers whether they be private, commercial or government.
The Company is also a distributor of electric vehicles that
are highway certified and low-speed vehicles (LSV). Through a developing national and international automobile dealer and franchise network, they will ultimately market two low speed vehicles, an SUV, compact and two sedans from one of the largest foreign automakers BAIC, its' own Mullen 700e, and various other all-electric vehicles that complement the full line of vehicles which will become the industry standard in the all-electric automobile industry.
Finally, and most importantly, Mullen strives to continue to develop state of the art energy storage systems, improve battery technology and make the best all-around all-electric car on the market.
---
Mullen 700e Sedan
| | |
| --- | --- |
| Model |  5 Passenger, 4-door sedan |
| Max. speed (mph) |  85 mph |
| Range (miles) |  180 miles (projected) |
| Brakes |  Anti-Lock Braking System (ABS) |
| Battery | 333V, 31kWh, Lithium Iron Phosphate (LiFePO4) Battery System |
| Battery Charge Time | 6 hours from 220V (30A) |
Mullen GT Carbon
| | |
| --- | --- |
| Engine: |  V-6 Supercharged 500 whp |
| Top Speed: | 0 – 60 MPH in approximately 3.0 seconds |
| Length: |  143 inches |
| Wheelbase: |  94 inches |
| Height: |  43.5 inches |
| Weight: |  2200 lbs. (approx) |
| Wheels: |  18" x 8" Alloy |
| Chassis: |  Tubular spaceframe |
| Suspension: |  Adjustable upper & lower A – arms w/coil-over shocks (front and rear) |
| Interior: |  Leather dash, center console and doors |