The Parallel & Intertwining Journeys of Alex Ayzin's Winds of Freedom Symphony
& Michael Joseph Butler's A World Flight Over Russia Book
By Michael Joseph Butler
The following short story is about two men born into different worlds in the late 1950s. One from the Soviet Union behind the Iron Curtain, whose family served in the Soviet Navy during World War II and the Cold War, and one from the United States, whose family escaped the oppression of the Old World in the 1800s and fought, died and sacrificed for the ideals enshrined in the United States Constitution in both World Wars and the American Civil War.
Their different journeys through life in the divided world of the Cold War and its dramatic ending and aftermath, with history seemingly always tugging at their sleeves, eventually led them, quite by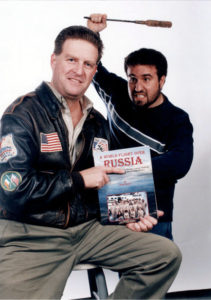 accident, to collaborate on a worthy project infused with the high-minded goals based bringing peace and goodwill amongst people nations.
Never forgetting that the basis for this project is the Winds of Freedom Symphonic Documentary Video, it is vital to keep in mind that Winds of Freedom was originally a stand-alone full-length symphony commissioned, created & produced by Alex Ayzin and written by classically trained Russian composer, Emlian Sichkin, after they first created Concerto for Astronauts and in the wake of tragic and world-shaking events from 1986 to 1991.
With tensions running high in a number of regions around the world, the time is ripe for a piece of high-art like Winds of Freedom to raise the consciousness and inspire people from every walk of life to work towards a more peaceful existence on Earth.
Looking back on the bloodiest century in human history, it is incumbent upon humanity to not repeat such a nightmare scenario where hundreds of millions fell in battle or in the meat grinder regimes which had no regard for human existence.
Section Breakdown:
May 2017, Morning Hot Chocolate, A Patch and A Chance Meeting
July 1992, A Last-Minute Assignment Changes Everything
1986 to 1991, Alex Ayzin Creates & Produces Winds of Freedom & Concerto for Astronauts Symphonies
After the July 1992 World Flight Over Russia:
1993 to 1996, The World Flight Over Russia Book Just Won't Wait:
1997 to 2002, The World Flight Book is Published & Alex Ayzin Returns from Russia:
December 7, 2002 to 2006, Deeper into Russian Culture & Alex Ayzin's New Life in Los Angeles:
2007 to 2015, Travel PR & Documenting a Christian Holy Land Pilgrimage:
2014 to 2017, Changes in Russia, Personal Setbacks & Winds of Freedom Becomes Symphonic Video Documentary:
May 2017 to May 2018, Our Chance Meeting, A Strange Collaboration & Shared Goal
---
May 2017, Morning Hot Chocolate, A Patch and A Chance Meeting: I first met Alex Ayzin, creator and producer of Winds of Freedom Symphonic Documentary Video, in early May 2017 at a Starbucks located in a beach community in Los Angeles. Early that morning, I was determined to have a relaxing cup of hot chocolate and a donut while watching the beautiful women dashing in and out to pick up their morning caffeine drinks. I positioned my chair near the front door with just such an activity in mind, and was largely successful until a red-faced Ayzin stormed up to me, looking like he was ready to punch me out, pointed a finger at a left shoulder patch on my leather jacket and exclaimed, "Do you know what that symbol means?"
The patch was a Soviet-Russian national guard patch, with the hammer and sickle symbol of the Soviet Union in the middle, given to me on July 16, 1992 as a present by Russian soldiers at a dual use military-civilian airfield in Syktyvkar, 624 miles northeast of Moscow, when I was on assignment documenting A World Flight Over Russia, which is where Our Story really begins.
Alex and I are from different worlds; he was born in Odessa, Ukraine in the Soviet Union in to a family that served in the Navy and fought to defend the Russian Motherland from Nazi Germany; I grew up in the United States from a family that had well over a dozen combat veterans from both World Wars and the American Civil War. Our relatives fought the same enemy and then our countries became contrasting and bitter enemies during forty years of a Cold War that was often hot.
It is hard to communicate how this world division colored every part of our existence on Earth, a time when the threat of all-out nuclear was always in the background. World War II gave rise to two major powers with the power to dominate and the result was the world divided in a real and ideological struggle fought in secret spy battles, in cat and mouse games under and above the sea and in the air and space; on bloody battlefields and with secret coups from Asia to Africa and in politics, the print media, movies, books, sports, on TV and radio; in research and science labs and schools; it was one world locked behind an Iron Curtain and one trying to melt the curtain down.
Events, desires and coincidences inexorably drove me deeper into Russian history and culture to the point that, by the time I met Alex that morning, we had much in common while the knowledge and experience gained provided me with an insight into his upbringing, background, motives, fears and aspirations for Winds of Freedom and beyond that few, if anyone else, possessed. Beyond this, the road through personal relationships, marriages, professional associations and close calls with Death also held many similarities that gave our shared, yet separate, struggles towards a set of worthy goals a strangely natural fit.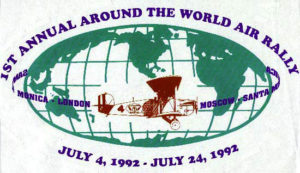 July 1992, A Last-Minute Assignment Changes Everything: A straight line on the road to my involvement in Ayzin's Winds of Freedom project, as a PR Rep starting in May 2017, leads back to a last-minute July 1992 photo-video documentary assignment. Three weeks before departure of the 1st Annual Around the World Air Rally, 12-small planes flying 17,500 miles around the world in 20-days while crossing the entire landmass of Russia and Siberia, I was dropped in as a replacement to document, in video and still pictures, what became an historical aviation adventure which changed my life. I knew little about aviation, had never flown in small planes and no idea what I was in for when I signed up. Designed as the first of annual world flights across Russia, it was Fated to be a one-time only event during at a major turning point in world history.
Organized from March 1991 to July 1992, when the final dissolution of the Soviet Union took place, this intrepid group of international airmen would leave historic Santa Monica Airport on July 4, 1992 and, as guests of Russia's top politicians, fly east with stops in Northeast Canada, Greenland, Iceland, England and Finland on then across Russia on the approximate World Flight routes of the Graf Zeppelin (1929), Wiley Post (1931 & 1933) and Howard Hughes (1938) and return to Santa Monica on July 24, 1992.
We spent five days in Moscow, landed at the historic grass airfield of Tushino in Northwest Moscow, were one of the first Western or civilian groups to visit Star City and tour the Yuri Gagarin Cosmonaut Training Center and Yuri Gagarin Soviet-Russian Space Museum, with lunch at the Yuri Gagarin Cafeteria in between. In a bit of space irony, 12-years later I would attend Buzz Aldrin's 2nd Man on the Moon 35th Anniversary Moon Landing Party at his home in Los Angeles.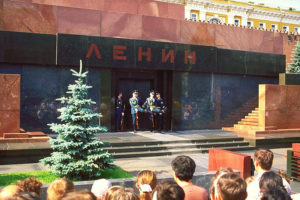 We had a reception with the new Moscow Mayor Yuri Luzhkov and the City Council, toured the Kremlin, Red Square, saw the Changing of the Guard at Lenin's Tomb, no longer performed, and went to the Cathedral of the Archangel at Cathedral Square in the Kremlin. It was commissioned by Ivan the Great (1440-1505), constructed from 1505 to 1508 under the supervision of Italian architect Aleviz Fryazin Noviy and dedicated to St. Michael, the patron saint of the Tsars and the royal army. The new edifice was built over the site of an earlier cathedral dating from 1333. Site of coronations, weddings, celebrations of military victories and burials, it contains many beautiful icons and over 50 bronze coffins, or royal tombs, with notables like Ivan the Great, Ivan the Terrible, behind the altar, Grand Dukes, princes and Romanovs.
In Moscow I celebrated my 34th birthday, July 12, 1992, amidst the 49th Anniversary Days of The Battle of the Kursk-Orel Salient, the biggest tank battle in history. On that day in 1943 the Red Army, after the battle had gone back and forth since commencing on July 5, launched their Kursk Strategic Offensive Operation with the launch of Operation Kutuzov against the rear of the German forces in the northern side. The German Wehrmacht permanently lost offensive military capabilities on the Eastern Front after this massive defeat.
Having just emerged from 70-years of Communist rule, the Russia we saw and Moscow we spent five days in was beset by a host of problems; from lack of electricity to power the city 24-hours a day to the inability to properly dispose of trash and waste; from crumbling buildings and infrastructure to pothole strewn roads; from bare store shelves and food shortages to no consumer banking system and a dearth of reliable cars, buses and other means of personal transportation. The country was in chaos and it was a gut churning combination of relief, hope and uncertainty. Viewing Russian history, with its periodic and sometimes violent upheavals, made the Russian people and world hold its breath and pray for a peaceful and prosperous outcome?
The World Flight's last stop for refueling was at Anadyr on the Pacific Coast, a top-secret nuclear launch site, where we were the first, and probably last, group of Western or civilian aircraft to land at that vital Russian military installation. We had some close calls in Siberia and the trip changed the lives of more than a few of the participants, as well as some of their Russian hosts.
In one of those strange bits of unexplainable cosmic coincidence, Alex Ayzin, having completed the Concerto for Astronauts and Winds of Freedom symphonies about a year earlier, had recently moved to Moscow from New York to make money in the rapidly changing Russian economic landscape. Employing his technical expertise as Naval/Power Generation Engineer, Ayzin, knowing of the waste problems in Moscow and beyond, proposed to the government a manner of safe disposal of urban waste, solid or otherwise, using California based waste-to-energy conversion technologies. This was just one example of the different projects he was involved in during five years in Moscow.
Raised in famed Ukrainian city of Odessa on the Black Sea, Ayzin attended the Odessa Marine Academy and was a commissioned Marine Engineer in the Soviet Navy when, in 1979, his entire family emigrated from behind the Iron Curtain across the Russian-Soviet southern frontier, by multiple trains, using fudged travel documents. After six-months in Italy being vetted by various agencies, they landed at New York's JFK Airport for a new life in America, where Alex continued his professional maritime education by earning a Master's Degree in Marine Transportation Management from the State University of New York Maritime College.
1986 to 1991, Alex Ayzin Creates & Produces Winds of Freedom & Concerto for Astronauts Symphonies: For five years, from 1986 to 1991, while working as an operating engineer for Con Ed in New York City, Ayzin did something rather amazing and totally unique; as a private citizen he commissioned two-full length symphonies, at his own expense, from classically trained Russian composer, Emilian Sichkin. The first, Concerto for Astronauts, was in response to the January 1986 Space Shuttle Challenger disaster and the second, Winds of Freedom, resulted from his reaction to the April 1986 Chernobyl nuclear power plant meltdown in Ukraine and the sight of the Soviet Union, the country where he was born and raised and trained to serve as a marine  engineer and naval officer, disintegrating from external and internal pressures.
During those years he worked closely with the often-recalcitrant composer, forcing him to use the latest electronic synthesizers, inspired by Greek composers Yani and Vangelis, while story boarding his vision for the symphonies as the mind-bending back and forth creative process moved forward in concert with massive world events that millions throughout the world thought they would never see in their lifetime. Lessons learned in the creation of Concerto for Astronauts were immediately applied, as they were produced back-to-back, in the writing and producing of Winds of Freedom, a more sophisticated piece of music imbued with wide-ranging and larger than life issues reflecting the major events of the time.
One cannot discount how world-shaking developments, not only in the Soviet Union, impacted Ayzin emotionally and psychologically during the creation of Winds of Freedom, but they must be considered when contemplating his story and the final products which resulted from the collaboration with the composer Sichkin. Ayzin's father and grandfather fought for the Motherland against Nazi Germany and members of his extended family were killed in the largest and most terrible land war in history.
The Winds of Freedom Symphony debuted live at Carnegie Hall in New York City in May 1991 to rave reviews and standing ovations; a full-symphony with a beautiful chorus did Ayzin and Sichkin proud as it demonstrated how powerful the music they created had become. This would be the last time it was to be performed live as events took over and forced Winds of Freedom into the closet, at least for the time being?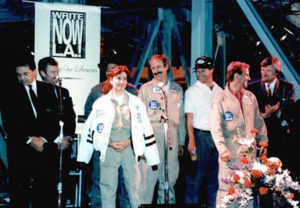 After the July 1992 World Flight Over Russia: Safely home from the journey around the world across Russia, I organized the 25-hours of video footage and photos for use in a World Flight video for participants and other purposes. I reflected on a few the close calls we had on the World Flight. After hitting strong headwinds flying from Syktyvkar to Novosibirsk, just over the Ural Mountains in Siberia, three aircraft, including the King Air 200 support aircraft I was in, almost ran out of fuel over Novosibirsk Airport. We crowded the Russian controllers, which we instructed not to do, and they stopped talking as pilots screamed into their radios for permission to land because of fuel emergencies; after getting no response the pilots told the controllers they were landing and did so. A valuable lesson learned for the days ahead.
GPS had just been released for public use by the U.S. Defense Dept. and this probably averted disaster on more than one occasion, especially over Siberia where navigation aids were few and the landscape vast. Passing through Siberia we flew over the largest swamps, forests and expanses of tundra in the world. Hour after hour of flight over endless wilderness with no sign of humanity or settlements, truly beautiful and forbidden territory should one of the aircraft have been forced down in the middle of nowhere.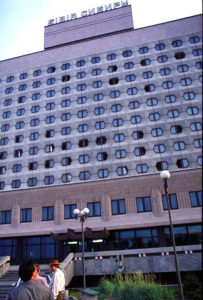 After getting stung by multiple mosquitoes in Syktyvkar during refueling operations, the following late afternoon in Novosibirsk, the geographic center of the Asian landmass just east of the Ural Mountains in Siberia, I fell ill and retreated to the hotel room. For 14-hours I was doubled over in the fetal position fighting a brain melting fever accompanied by wrenching body pain while bathed in sweat and having frightening, soul wrenching hallucinations from beyond. Could it be malaria, dengue fever or deadly Japanese Encephalitis, common in Siberia and transmitted by mosquitoes? Whatever it was, I was scared out of my wits about getting worse, becoming ambulatory, or that other thing, with another week of still documenting this flight just to get to Alaska? Purified water and periodic cold showers helped and by the Grace of God the fever broke just hours before departure, at 5:00 am, in a wondrous moment of instant relief. I was weak but could function. Despite the difficulty experienced, I was keen about going back to Russia in summer 1993 to document the 2nd Annual Around the World Air Rally.
After a few months home, I bought a book about historic around the world flights at the Santa Monica Museum of Flying, one of our sponsors, and learned about how we approximated the historic world flights mentioned above and other daring aviation feats of circumnavigation. This gave a me a sense of having experienced something unique in a variety of ways, and then the 2nd World Flight Over Russia, and all future flights, were cancelled and it gained added significance. Moscow could not guarantee our safety in Siberia as Far-Eastern provinces sought more control over their affairs and Russia became an open market for those with influence, money and muscle.
At this point my knowledge of Russia largely centered on World War II, since I had taken an avid interest in history and attended the 50th Anniversary of Pearl Harbor, December 7, 1991, to honor my Uncle Paul Harvey, a Pearl Harbor Survivor, and the five other WWII combat vets from the family. The World Flight video suffered from no editing budget, however, I still possessed the 25-hours of raw video and thousands of color slides. In the summer of 1993, while doing free-lance video and photography with the gentleman who sent me on the World Flight, I received a package which proved a turning point.
Dennis Stewart, one of the co-pilots, and three other pilot-participants kept detailed journals and Stewart collated all four into a fantastic look at the World Flight. I dug in and learned much that happened outside of my purview as an official support crew member. Immediately, the thought of a book came into focus and it became obvious, with every passing day, that the story was unique in historical terms while the aviation adventure provided a foundation for the telling of a singular journey through a wormhole in time.
Back in Moscow, Alex Ayzin was busy brokering deals to import much needed and desired American automobiles and consumer products as a Russia starved for goods and materials began the difficult transition from a top-down command and control Communist political and economic system to, what was hoped for, an open-democratic, capitalist society offering opportunity and advancement for many. Western foreign aid and private capital poured in while the de-nationalizing of state-run enterprises continued apace. Former Soviet provinces distanced themselves from Moscow's central control while the pent-up energy of individuals and groups sought to cash-in while the going was good.
1993 to 1996, The World Flight Over Russia Book Just Won't Wait: As 1993 moved into 1994, the thought of writing a World Flight book kept gnawing at me; but I had never written a book, didn't the know first thing about getting published and didn't own a computer to start such a project. But such things have a way of developing their own volition and it seemed inevitable I would try, but when?
In June 1994, at the extreme last minute and with no pass to any ceremony or a hotel room in a region sold out for years, I went to the 50th Anniversary of D-Day in Normandy, France with the thought I would start the book upon returning home. I landed in Cherbourg, France in the early evening of June 5, after attending commemorative ceremonies at Portsmouth Harbor in England, and then stumbled through a series of D-Day Miracles to secure a room and a pass to the ceremony at Normandy Cemetery, situated above Omaha Beach. In a CBS News 50th D-Day Special, Dan Rather uttered a simple phrase I found true when I set foot on that hallowed ground on June 6, 1994, "Nothing can prepare you emotionally for the power of this place."   
It was an amazing experience which provided the perfect bookend to my 50th Anniversary Pearl Harbor excursion, where I met Medal of Honor recipients, a Japanese pilot who bombed the West Virginia battleship, great historians, Japanese engineers who helped develop the low-running torpedo and veterans who either survived Pearl Harbor and/or participated in the war. As part of 8-day symposium sponsored by the Arizona Memorial Foundation, I got to visit all the military installations hit that morning, including Schofield Barracks, where my father did Basic Training in 1950 during the beginning stages of the Korean War. Luckily, for him and me, he was spared from going overseas as most of those he was in training with did not make it home!
Within weeks of returning from D-Day I began about writing the World Flight book, a task which tested my resolve beyond imagining and changed all that followed. My partner and I were renting an office suite/photo studio in an old-style aircraft construction warehouse in Santa Monica, rather appropriate except that it had no central air and it was freezing in the winter and a hotbox in the summer. My partner loaned me his computer and I set up the video camera, with a monitor, next to the computer in a small storeroom.
I dug out the 25-hours of video tape, had the pilot's journals in hand and set about to do something I had never done before; write a book. I contacted other participants who sent me small journals that nicely complimented the full-journals. The curator of the archival library at the Santa Monica Museum of Flying, George Kirkman, freely loaned me rare and relevant aviation books that proved a big help in adding those small yet important touches of flying history to the story. My personal library of history books was extensive and, quite by accident, contained a number a Russian history books penned by some of the finest historians in the world.
For two years I read and wrote, wrote and read, read and wrote, probably about 4,000 hours, transcribed events from the videos and created what was later described by a book reviewer as a "rambling, content packed super-journal of the trip." Having the 25-hours of video proved a boon as I was able to recreate long-forgotten events in detail; speeches, briefings, how the clouds looked, the manner of dress and the way people spoke and interacted, cursory conversations, vital scenes and, of course, the beauty of Siberia. Supplemented by what I remembered, the info from my books added the historical context required when writing about Russia.
Continual reading of great historians, with a large amount of Shakespeare during downtime, was vital as it improved my writing style as I continually cycled back through to edit the non-journal text. The pilot or participant journals were not altered in any fashion and one of the major journals contained detailed, hand-drawn route maps that enhanced the story. The slides were important for reference during the writing and would, of course, be vital if the book got published?
1997 to 2002, The World Flight Book is Published & Alex Ayzin Returns from Russia: The book was rejected by over fifty publishers and the one who ended up publishing it, Wind Canyon Books, was only contacted to inquire about another publisher. George Jaquith bit immediately when he heard the story and I signed a contract in 1997, a year after the manuscript was finished and three-years after writing commenced. Four issues proved contentious; first, after noticing that Dennis Stewart's journal was written in "present" tense, I converted everything to that tense as it put the reader in the middle of the action in real time. At first Jaquith hated that, but later relented. Second, I had a great picture of the Siberian landscape that was perfect for the cover, he disagreed but later agreed. Third, he changed the book title and, fourth, cut the large historical sections because they drowned the story; I was wrong on the last two counts and the publisher was right.
When A World Flight Over Russia came out, in mid-1998, Alex Ayzin was back in New York and in the process of moving to Los Angeles with his wife. His five years doing business in Russia had come to an end as competing interests became more splintered and dealing with them more unpredictable and dangerous. The central government had lost control over affairs on a variety of levels and the progression into a wild west atmosphere with organized crime and ever-present corruption all over the country was not lost on the world. Billions in foreign aid from Western countries disappeared or was spent on projects, designed to help the people, where a bulk of the funds were siphoned off by corrupt bureaucrats, shady enterprises or stolen. Weapons of all kinds were being stolen and auctioned off as various intelligence services sought to contain or destroy the most dangerous weapons from the Soviet arsenal.
Publicity fell to me because the publisher lacked a marketing department, which is how I learned PR and later transitioned into traditional and Internet PR for authors, experts, a river cruise line, travel tour operators, non-profit organizations, tourism agencies and others. My first radio show was with the great Art Bell, then one of the biggest syndicated radio shows, and it was terrific as he showcased me and the book as few radio talk show hosts in the industry do. That night we sold nearly 1,000 books and the World Flight book campaign was off and running.
The Internet was in its infancy and didn't really exist as a means to create lots of interest in the book, plus at the time it was slow and expensive to operate on the net. I had a bit of luck when an aviation website expressed an interest in publishing book excerpts and a photo gallery;
I flooded him with material, not knowing he wasn't serious, and he took the bait and put up a fantastic site that served me well during the campaign. It is still up at http://www.aviation-history.com and I will always appreciate that favor.
I learned rather quickly, through trial and error, that I had to make the book and flight exciting to the media; this forced me to come up with exciting, interesting and relevant angles and sharpened my skills for clients in the years to come.
Russia had changed a lot in six years and I kept up with the news in an effort to contrast the various parts of history that made the story more compelling. I did radio shows all over the country, attended book festivals and did slide shows and gave speeches all over Southern California.
Articles written by me about the World Flight and book were published in the Russian Aviation & Commerce, COPA's Canadian Flight and Atlantic Flyer newspapers. Feature articles were published in the Sunday Los Angeles Times, Russia, as the Crow Flies by Cory Fisher, and my father's hometown newspaper in Minnesota, the Fergus Falls Daily Journal, Book Illustrates Danger of 'Round the World Flight by Karla Rose. Book reviews were secured in aviation magazines EAA's Sport Aviation, Flight Journal and Smithsonian's Air & Space. We sold to enough books for a second edition, which included quotes from Art Bell and then Speaker of the House Newt Gingrich on the back cover.
December 7, 2002 to 2006, Deeper into Russian Culture & Alex Azyin's New Life in Los Angeles: On Pearl Harbor Day, December 7, 2002, while attending a Christmas Party in the Hollywood Hills, I met a lovely Russian woman who grew up in St. Petersburg and with whom I would return to Russia with the following year. When we first became acquainted, the natural topic was my trip to Russia and the book, which then devolved into a discussion about Russian history and her life growing up in the Soviet Union. Surprised at my extensive knowledge of Russian history, she exclaimed, "You must be a spy, no Americans know this much Russian history!" She then asked the key question, "Who won the war?" I thought carefully and said, "The Russians, with lots of help from the Western Allies." This answer sufficed, and I had passed a crucial test.
We met again the next weekend and I gave her a copy of my book, which she never read during our 12-year association and marriage. Returning with Olga to Russia as a traveling companion, having been around Russia on the World Flight, made it easier for her and created an opportunity to show off "her" beautiful St. Petersburg to an American. We traveled in late summer 2003, the first time she had been home since 1994, and I got the full inside tour meeting her family, seeing various places where she went to school and lived, meeting well-known artists and actors she knew, touring the beautiful Hermitage and other museums and visiting her father's small village south of the city.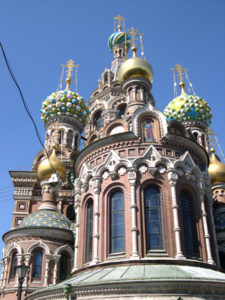 One of the most famous and beautiful places in St. Petersburg, called the Venice of the North, is The Church of Our Savior on the Spilled Blood, built on the spot where Emperor Alexander II was assassinated in March 1881. Closed for services in 1930s by the Bolsheviks, it was covered and supposedly under restoration for over 30-years and re-opened in 1997. During the 40-plus years Olga grew up and lived in the city she never saw it and then, during our trip back, for the first time she was able to visit one of the beautiful Churches in the world. We also went to the Leningrad Cemetery, where the over 1-million victims of the 900-Day Siege by Nazi Germany are interred in mass graves and saw other war memorials which added to my list of World War II commemorative sites visited.
Russia had changed since 1992. St. Petersburg was full of Western goods and business activity brisk, as it was in Moscow. Huge billboards with displays and logos of companies from around the world were everywhere. Stores with bare shelves were replaced by huge supermarkets; Russian cars were replaced by Japanese, European and American models; new apartment buildings abounded in the outskirts of the city and more were going up; labor saving appliances of all kinds and upscale remodels of existing apartments was proving a huge business opportunity for Russians and the suppliers from around the world.
Back in Los Angeles, I regularly attended Liturgy Services at the Russian Orthodox Church with Olga and always felt comfortable despite not understanding the Russian language service. I would soon be Baptized in the Church, then we would get married in the Church and our two children would be Baptized in the Church as well. I was not raised in a religious family, but readily found a new home in the Russian Orthodox Church and soon we would become part of the early English language Liturgy group which created a kind of a second family for us.
In the meantime, Alex Ayzin was settled down to a new life in Los Angeles. The Winds of Freedom project, still only a symphony, was still waiting in the wings as he worked at various pursuits. Whatever he was involved in at any given time, Winds of Freedom was never far from his mind and this caused no few problems in personal relationships. One of his primary enterprises was brokering the sale of existing businesses throughout Southern California, which is what he was doing when we met in 2017.
When I was in St. Petersburg in 2003, Vladimir Putin had just come to power as head of the central government and in the years that followed Russia began a new transition period. Ayzin, with numerous contacts still in Russia from his five years in Moscow, followed developments with keen interest as he was always looking for new opportunities and would never stop being concerned about his homeland. A decade of unfettered and largely unregulated commerce throughout Russia had created such an unstable fracturing of the country that Putin considered it an offense to everything he fought for as a high-ranking KGB officer and loyal soldier of the Soviet Union and Russia. Things were about to change, and Alex Ayzin would monitor every twist and turn of the process.
2007 to 2015, Travel PR & Documenting a Christian Holy Land Pilgrimage: In 2004 I began doing book PR work with the gentleman who helped me promote the World Flight book and in 2006 began doing travel PR by landing a contract with Brendan Vacations, a top-notch tour operator founded by Jimmy Murphy. A native of Ireland, Murphy was one of the pioneers of the modern travel industry and Brendan was one of the largest escorted and independent tour operators in Ireland, ran escorted tours around the world and sold independent tour packages for every destination one could imagine.
Work in this sphere resulted in two Tahiti Travel PR junkets to the beautiful island of Moorea, 2007 and 2012, in conjunction with Brendan Vacations and Tahiti Tourisme. Internet News Releases, articles and the media exposure I generated ushered in an introduction to working with national tourism agencies in tandem with a tour operator to promote a single destination. Back in the states, I booked myself on about 25 radio shows nationwide to talk about traveling to Tahiti. Soon I would begin a long working for Murphy's newest company, AmaWaterways, which was founded in 2002 and rapidly became one of the premier river cruise lines in the hottest and fastest growing segment of the travel industry.
Travel promotion expanded my business scope and prompted me to move faster refining existing and acquiring more tech and computer skills for the rapidly evolving world of Internet PR, thus complimenting what I had learned when promoting the World Flight book and other client's through traditional media outlets. In late 2012, about five months after the second Tahiti PR Junket, taken with Olga and our two children, I started my own PR firm and took AmaWaterways with me as a foundation for the new enterprise.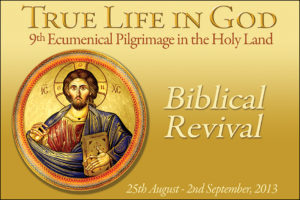 In March 2013, I was brought in as part of a major book PR campaign, involving six other publicity firms, for Vassula Ryden's newest book, Heaven is Real, But So is Hell. I performed some work beyond the scope of the contract, namely editing her radio show appearances into 36-subject based podcasts and then creating 23 Radio Show Videos employing my newly honed video editing skills while utilizing the large amount of archival video footage I had accumulated over the years at our Russian Church.
These rather unique PR materials, unlike anything created by the other PR firms, so impressed Vassula Ryden that she personally invited me as a guest and contractor to help document her worldwide organization's 9th True Life in God Ecumenical Pilgrimage to the Holy Land, which involved 700 Christians from around the world visiting Jerusalem, Nazareth and Galilee.
Visiting the most sacred places in Christian history and touring the Holy Land of Israel was truly a life changing experience. A few of those places were The Old City, Via Dolorosa and the Stations of the Cross, Church of the Holy Sepulchre, Mount of Olives, Garden of Gethsemane, Mount Zion, Pools of Bethesda, Chapel of Ascension, Mount of Temptation, Capernaum, Sea of Galilee and in Nazareth the Church of the Annunciation, Mary's Well and more. A fantastic journey thru history and to do it with 700 Christians from around the world that were permitted the use of major Cathedrals in multiple locations for Liturgy conducted by the 13-Bishops and 100-Clergy in our group made it an unforgettable experience.
For my story, one of the most important places visited was The Tomb of St. Joseph, the man who raised Jesus Christ. Located in Nazareth four stories below the French Sisters of Nazareth Convent School, one block from the Church of the Annunciation, Vassula brought me along, I was the photographer, after a Monk informed her that he had arranged for a private tour from the French Nun who ran the Convent School. We descended through multiple staircases of Roman ruins to the very bottom to the Tomb, with the massive rolling pin still intact, that is part of a multi-room complex. Hidden for almost 2,000 years, having only been discovered in 1880, it is not open to the public and two years after our visit a British archeologist determined it was probably where Jesus was raised because it was Joseph's home and workshop
2014 to 2017, Changes in Russia, Personal Setbacks & Winds of Freedom Becomes Symphonic Video Documentary: A watershed year in Ukraine and Russia's relationship to world powers played out with the backdrop of the 2014 Winter Olympics in Sochi, a Black Sea city in Russia, and continued turmoil in the Middle East. Determined to rebuild Russia's major power status and protect long established frontier areas for national security, Putin took back the Crimean Peninsula from Ukraine and begin to chip away by invading eastern Ukraine as Western powers had been vying to draw it into NATO and the EU. This develop
ment and the fallout in the years ahead would alter Alex Ayzin's views and relationships with Russia.
By late 2015 my marriage was over and my physical health, from stress and various other factors, had gotten to the point where I could easily curl up and give up or get up and get back to living; I chose the latter course and it would take me 18-months of intense effort to regain and improve my health beyond what it had been for many years. By the time Ayzin and I met in May 2017, his marriage was also done for and, in a key development, in 2016 he had taken the Winds of Freedom Symphony and turned it into the Winds of Freedom Symphonic Documentary Video by putting images to the music in an effort to promote peace and goodwill amongst men and nations. It turned out great and our chance meeting proved decisive.
May 2017 to May 2018, Our Chance Meeting, A Strange Collaboration & Shared Goals: By the time Alex and I met I was so completely drenched in Russian history and culture, along with world history and current events, that it was like second nature to be able to peer into Alex's life and know the emotions boiling inside of him. I found empathy with Alex because Winds of Freedom and A World Flight Over Russia shared a story of difficult creation; me spending two-years locked in a small storeroom writing and reading and getting the book published and promoted; Alex locked in five-year battle with a composer creating two full-length symphonies and then giving the Winds of Freedom new life in video format and getting it promoted.
At Starbucks that fateful May 2017 morning, Alex calmed down after I explained to him that the patch on my leather jacket, the one with the Soviet hammer and sickle symbol in the middle, was a gift from Russian soldiers in Syktyvkar during the World Flight Over Russia. Then the talk turned to Winds of Freedom, Russia, his background, the World Flight, history, promoting such a project and more. In the months ahead, so many similarities in our stories came to light that it truly seemed like our collaboration was pre-ordained.
The more I learned about Winds of Freedom and Alex's life story the more I said to him, "This is ama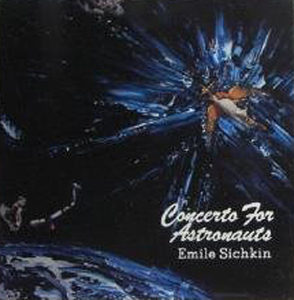 zing, no one commissions their own symphony, but if you want this to work you have to be out in front telling your story." However, Alex kept reiterating that he wanted to remain in the background and I kept saying this is a non-starter; this issue proved the first hurdle we overcame together and opened the door for me to create a complete rebranding of the project.
After working together for over a month, Alex had not told me about Concerto for Astronauts. Then one morning he causally pulled out the Concerto for Astronauts music CD and told that me it had been created just prior to Winds of Freedom and was written by the same composer with his guidance. I almost fell out of my chair and broke my arm, I screamed at him and my exact words were, "So you didn't commission one symphony…you commissioned two symphonies, Oh My God, you son-of-a-bitch…you buried the lead on me!" The final words are a phrase from journalism where vital parts of an article are snuck in to the final paragraphs of the story, and it sure applied here big time!
I sat in stunned silence for five minutes, laughing and shaking my head, as all the promotional opportunities and implications rushed through my mind; all the materials and stories would have to be rejiggered to accommodate this huge and important fact. In plain truth, Winds of Freedom very likely would not have come to life without Alex Ayzin and Emilian Sichkin first creating Concerto for Astronauts. 
With this new info in hand and being even more determined to get Alex out in front of Winds of Freedom and convinced it was necessary, I began a series in-depth interviews to glean the entire story of his life from the start to the present day. We spent at least 20-hours talking as I fired question after question at him and soaked in all the info, nuances, events and emotions of his story.
Then, employing my own historical knowledge and writing style, I put everything into a complete story, Alex Ayzin: 1 Man, 2 Symphonies & a Mission of Peace & Freedom, that finally convinced him that yes, indeed, he must be out front of Winds of Freedom with his own story. Then I redesigned the website around that premise and the foundation for future promotion of Winds of Freedom was completed.
In a huge, massive bonus, Alex's father, shortly before his passing, was really touched by seeing the story with the full family history showcased against world events and the creation of his son's Winds of Freedom Symphonic Documentary Video in print and on the new Winds of Freedom Foundation website…
 The rest, as they say, is history