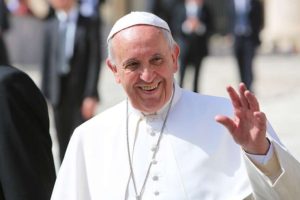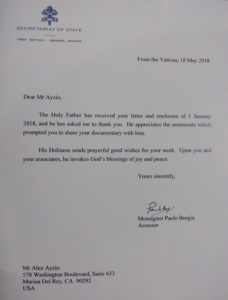 Letter from Pope Francis about
Winds of Freedom, 
Click on Image to Enlarge
---
This is a moving video laying out the reasons for and the effort behind Alex Ayzin first commissioning and helping produce two full-length symphonies, Concerto for Astronauts and Winds of Freedom, and then transforming
Winds of Freedom into a Symphonic Documentary Movie in an effort to promote world peace. 
Songs are Russian Sailor's Dance from The Red Poppy by the Philadelphia Orchestra,
Eugene Ormandy and The Final Sacrifice by Kkev Music Production
---
Click Here to Watch Interview of Alex Azyin by Pete Allman
About Winds of Freedom on the OCN TV Network
---
This is a journey of one-man raised in Ukraine, then part of Soviet Union of Russian Republics, and trained to serve in the Soviet Navy during the Cold War. Ayzin's hopes and aspirations for the Winds of Freedom are to work for Peace around the world. 
---
How many private citizens do you know who commissioned two full-length symphonies in an effort to change the world?
Well, now you know at least one and his name is Alex Ayzin
Following the early 1986 Challenger and Chernobyl disasters, Alex Ayzin did something amazingly unusual and totally unique. At his own expense, and with little idea of the task he had set up for himself, he commissioned two-full length symphonies from classically trained Russian born composer, Emilian Sichkin. While having no formal musical training, Ayzin grew up with his father always playing the masters of classical music and so instinct and taste guided him on the path of creation with Sichkin. 
First, 18-months after the January 1986 Challenger Space Shuttle explosion, came the moving tribute to those brave explorers of space and then, in 1991, with the Chernobyl nuclear meltdown disaster and a hot Cold War providing fresh motivation, the Winds of Freedom Symphony was released celebrating Man's Timeless Quest for Peace & Freedom.
Working closely with a classically trained, and extremely talented composer producing two full-length symphonies, over a five-year period of time was a challenge. Alex encouraged Emilian to employ the latest electronic synthesizers, in tribute to Greek composers Yani and Vangelis, while storyboarding his vision for both symphonies in a constant process of inspired creativity. Emilian comes from a talented and respected musical family and was trained as a classical pianist at the finest Russian conservatories.
On May 11, 1991, the Winds of Freedom Symphony debuted live at Carnegie Hall in New York City, with a full orchestra and beautiful chorus, to rave reviews and standing ovations which proved to both of them how truly powerful the music they created had become. 
In 2016, Alex Ayzin married the symphony to images and created the Winds of Freedom Documentary Video Presentation, which can be seen below, which combines stirring video and still images with the innovative and moving classical score to create an inspirational experience that brings a powerful message of hope in a chaotic world needing more peace and harmony among nations and people. While Concerto for Astronauts is a tribute to the brave astronauts lost on the Challenger, and in all risky exploration endeavors, the Winds of Freedom celebrates life, teaches history while inspiring peace and hopes for a brighter future. 
Only one person in the world had the vision, drive, courage, and devotion to commissioning his own symphonies in the face of heartbreak and tragedy amid prayers for a better world. To fully comprehend the motivation of this unique man, it is necessary to read Alex Ayzin: 1 Man, 2 Symphonies & A Mission of Peace & Freedom.
---
Winds of Freedom is a world peace initiative launched with symphonic multimedia presentations inspired and produced by Alex Ayzin in a quest to promote peace and harmony among nations. Originally conceived as a full-length symphony, it was later combined with video to create a media event that celebrates life, teaches history, inspires peace and hopes for a brighter future.
Global Peace and Universal Love Among All Humanity is Our Highest Goal
Winds of Freedom is dedicated to achieving world peace, including the presentation of a spectacular multi-media concert event celebrating man's struggle for peace and freedom over the last hundred years, with riveting images of the human quest against oppression set against a backdrop of music from one of Russia's finest composers, Emilian Sichkin.
The WOF program is a dazzling symphony of music set against breathtaking historical footage of the defining moments of our century, and words from world leaders and celebrities of our times, together in a magnificent multi-media presentation dedicated to peace among all nations and peoples. It is a synthesis of music, vision, performance, and humanity celebrating the spirit of hope, courage and cultural harmony.
Alex Ayzin's has brought together a combination of efforts from a diverse group of international talents to communicate the shared goals of peace and freedom. Emilian Sichkin's brilliant eight-part symphony allows for numerous multi-media versions to be created depending on the news of the day.