The Winds of Freedom Team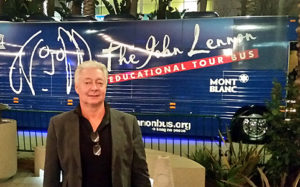 Alex Ayzin was born in Odessa, Ukraine and raised in a third-generation Navy family. His family immigrated from the Soviet Union in 1979, to New York, in search of freedom. Alex then attended the Maritime College, receiving his Master Degree in Marine Transportation.
Since his early childhood, Alex studied music and was influenced by classical music as well as the Beatles. While pursuing his passion, on the creative side, Alex managed various music groups and produced three albums and live concerts in New York, including Carnegie Hall. He eventually created and produced the "Winds of Freedom," where he formed a 30-year friendship and collaboration with Russian composer, Emilian Sichkin.
Alex Ayzin who lived within a communist country, an area that is now the focus of a major conflict between Russia and Ukraine, was inspired to give back to humanity by creating the Winds of Freedom.
---
Pete Allman is a communications specialist and media personality, who has helped escalate the careers of many professionals through his profession as a journalist, radio and television talk show host. Pete has written for 40 various publications and hosted, directed and produced hundreds of radio broadcasts in Las Vegas, Los Angeles, and Augusta Georgia.
His produced weekly television shows, Hollywood In Action, Las Vegas Hollywood Report  and CMX Sports and Entertainment, awarded him a Proclamation from Mayor Oscar B. Goodman, and Councilman Ricki Barlow on May 10th, 2008, for promoting the positive aspects about the city of Las Vegas, also awarded him a commendation from Congresswoman Shelley Berkley. Pete currently writes for LVH Magazine, NewsBlaze.com, and CelebrityScene.com.
In addition to his journalistic writings and various broadcast, he's produced five feature films and various video segments promoting West Los Angeles College.
---

Emilian Sichkin, a Russian born composer, grew up in an artistic family. His father was a well-known film and theater actor, mostly known in the US as Leonid Brezhnev in the Oliver Stone film Nixon. His mother is a ballet dancer from the Moscow Bolshoy Theater and later a choreographer for the Mosfilm Studios in Moscow. Emilian began music studies at the age of three and wrote his first composition at the age of nine. He studied at the Gnessin School of Music and later at the Moscow Conservatory with Albert Leman. After his father was persecuted on fabricated political charges in protest, the whole family immigrated to New York. Not only has Sichkin witnessed the extraordinary events that unfolded in the Communist World, but having experienced oppression he is in a unique position to comment on these winds of change & freedom.
Emilian's first published work Concerto for Astronauts (1986) was highly acclaimed. It was aired on WQXR and reached millions of people on the Voice of America. Emilian's other significant works include Symphony Overture–Little Mermaid, Snow Queen, and the ballet score, Demon. Mr. Sichkin has also written for the film and television.